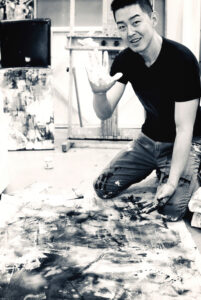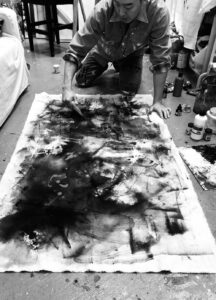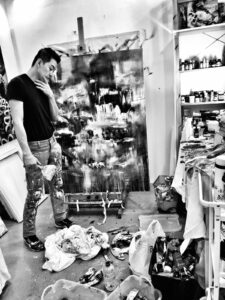 Jun Yang, born and raised in Seoul, South Korea, has made San Francisco his home for the past 10 years. The City inspires Jun and his art with its cultural diversity, celebrated urban landscape, natural beauty as well as the socially inclusive culture which provides support and protection for an artist. Jun is a self taught, multifaceted and resourceful artist who uses a broad range of techniques and materials creating art pieces in a variety of sizes and locations, from intimate canvases to full scale murals. Jun has shown his work in numerous national and international exhibitions in San Francisco, as well as Graz, Austria and Seoul, Korea. Jun's work seeks to evoke emotions through his use of space and colors. Jun's art speaks to viewers across cultures and continents in a unique way, transcending the need for common language. Each piece is incomplete until the viewers contribute their own contexts to the artistic conversation.
Event
Kunsthaus Graz
Jun Yang – The artist, The work and The Exhibition.
Lendkai 1, 8020 Graz, Austria
Feb, 14th – May, 19th 2019.
South Korea Consulate San Francisco
Opening reception March 2019.
More information coming soon.
Opening reception in the City Hall San Francisco at district supervisor's office #284
Oct 19th 4pm -5pm.
Pilz Coffee Noe
4298 24th St, San Francisco, CA 94114
Mar, 10th -Apr, 10th 2019.
Startbucks Noe
3995 24TH St. San Francisco, CA94114
March 11th – May 11th 2019
Spring Open Studios, Art Explosion Studios,
2425 17th St. SF CA 94110,
March 29th -31th, 2019
SOLO SHOWS
2018
San Francisco City Hall, CA94102
2018
ROPG Gallery, San Francisco, CA
2012
La Braserade, Annecy, France, Lignes
GROUP SHOWS
Kunsthaus Graz
Jun Yang – The artist, The work and The Exhibition.
Lendkai 1, 8020 Graz, Austria
Feb, 14th – May, 19th 2019
Chai Bar SF
1019 Market St, SF CA94103
Opening Reception will be in Dec.
Exhibition Dates: Nov 2018 – Jan 2019
Wonderland SF, San Francisco,CA
2019
Art Attack SF, San Francisco, Into the Wild
2018
Art Attack SF, San Francisco, February '18 Group Exhibition
2017
DADA Gallery, San Francisco, CA, USA, Dadaism Inspired Portrait Series
2017
DADA Gallery, San Francisco, CA, USA, Summer of Love
2017
Spark Arts, San Francisco, CA, USA, Windows for Harvey
2017
Publicworks, San Francisco, CA, USA, Connected
2017
111 Minna Gallery, San Francisco, CA, USA, Summer of Love
2012
Space Gallery, San Francisco, CA, USA, The Wall Off